It's 2022. We're all busy, but no one is busier than Gen X women. With families to care for, social lives to soak up and lively careers, they're balancing a lot. But to stay at the top of their game, self-care is key. Creating an enjoyable beauty routine that's easy to stick to can be the difference between frazzled and flourishing. Read on for tips on creating a routine that works for your busy lifestyle
Why Self-Care is Key for Gen X
When you're managing changing priorities and responding to situations at work and home that may be out of your hands, having a sense of control and time to decompress is everything. It's not a secret that routines can make us healthier and happier. The harder part is keeping them when schedules are hectic!
Building Your Beauty Routine
The key is simplicity. It's about creating a small but mighty collection of carefully curated products. With all the marketing and "must-have" lists, it's easy to feel overwhelmed. The beauty industry will tell you otherwise, but you really only need 3-5 high-quality products and less than five minutes.
So what goes into the perfect beauty routine? Everyone needs a good cleanser, serum and moisturizer. These are the building blocks of healthy, beautiful skin.
What to Demand From Each Step
1. Cleansing
Facial wipes just don't cut it. The purpose of cleaning your skin with a gentle cleanser and water is to remove makeup, excess oil, pollutants, bacteria and debris without stripping your skin of their protective natural oils. Cleansing gives you a fresh canvas for the rest of your routine, allowing products to penetrate deeper for better long term results.
We love our Gentle Exfoliating SKIN Cleanser that refreshes, exfoliates and soothes in one step.
2. Applying Serum
Serums go on after cleansing for maximum absorption into the skin. You can find powerful solutions to improve texture, boost firmness, fade dark spots and reduce the look of fine lines and wrinkles. Serums aren't just for skin concerns either, you can add an eyelash and eyebrow growth serum to enhance fullness for a more youthful, naturally luxurious look.
Try some of our favorites. SKIN Intensive Hydrating Serum works to visibly reverse and repair damage due to lost elastin while our LASH & BROW Dual System visibly boosts the length and density of lashes and brows.
3. Moisturizing
Moisturizer is a must for everyone, regardless of skin type. Apply it after your serum to seal in moisture and make the most of the product benefits. Our own signature moisturizer features powerful Elastaplex® Technology to support your body's natural ability to stimulate the replenishment of elastin. In a 12-week clinical evaluation, participants noticed a significant improvement in the look of their skin.
Rejuvenating SKIN Facial Moisturizer is a best-selling customer favorite for gorgeous, glowing skin that looks timeless and feels clean.

Pro tip: Mix the Intensive Hydrating Serum with the Rejuvenating Moisturizer for a quick time saver, but the same glowing results!
Finishing Touches
All of the above takes less than five minutes, but has preventive powers that will keep your skin looking wonderfully radiant. Another beautiful benefit is that healthy skin is the ultimate base for any makeup look – plus you'll need less product to get that naturally stunning glow.
Finish with a touch of concealer to brighten the inner corners of your eyes, curl those lashes and add two coats of mascara for that well-rested look. Finish with a multitasking color that compliments your skin tone and works for eyes, lips and cheeks. A fresh coral will shine on warmer skin tones while a pop of pure plum will be perfect for cooler toned beauties. Just looking for a summery glow? Strategically placed bronzer or a sunny luminizer and a smile is all you need.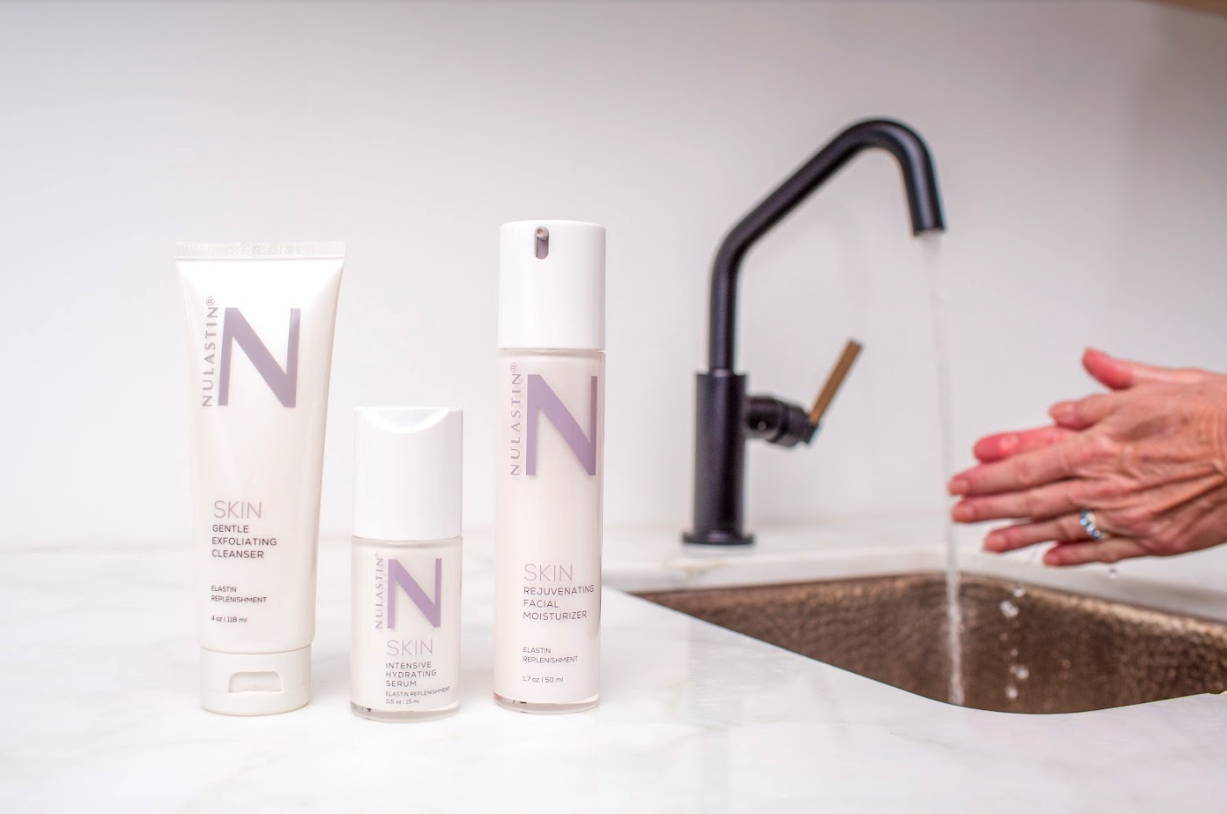 With all Gen X women do for those around them, we hope to give them some time-sensitive self-care inspiration. Making these steps part of your routine gives you a sense of control and gives you something stable to look forward to, almost like a spa appointment with yourself! The more often you show up to your appointment, the faster you'll see results with your NULASTIN® products.
By providing an additional source of elastin to your skin and hair, our Elastaplex® Technology successfully restores the skin's youthful look and feel. Our entire collection helps defend against matrix protein damage caused by aging, stress, sun exposure, weight changes and other factors.
100% Performance Guarantee
If our products do not meet your expectations, you can return or exchange
them for a full refund
at any time.