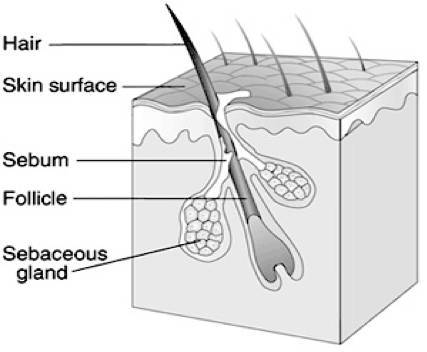 Hair loss and hair thinning is a troubling experience for many women as they age. The American Hairloss Association recognizes that hair thinning is life-altering and that 40% of women suffer. Symptoms appear on the scalp, eyelashes, and eyebrows. Consequently, women see bald spots, sparse eyelashes and eyebrows including thin, dry, brittle and weak hair. 
The causes of hair loss and hair thinning are more diverse than most people realize. Popular solutions for women who suffer hair loss include Minoxidil (Women's Rogaine®) for the scalp. Revitalash®, LATISSE®, GrandeLASH-MD, Rodan+Fields Lash Boost, vegaLASH Volumizing Serum promote eyelash and eyebrow growth. These brands use ingredients ranging from prostaglandins to peptides.
The question remains, do these products address the cause of hair loss?
Hair follicles have an intimate association with and are responsible for the production of proteins such as elastin. Elastin fibers in the upper skin are exclusively synthesized by the cells lining the root sheath in the hair follicle. This establishes an intimate connection between the hair follicles and the extracellular matrix that supports the follicles in the skin.
There is growing evidence that other factors affect thinning and loss of hair. Environmental conditions and sunlight can damage the proteins in the skin. This is a self-reinforcing problem. As hair thins and becomes more sparse, greater amounts of sunlight can penetrate to the skin. Most noteworthy, the UV range of the spectrum damages the proteins in the extracellular matrix. 
Not only is elastin synthesized by the cells in the hair follicles, but the follicles themselves depend on elastin for their vitality.
Women Seek Solutions to Hair Loss – Thinning Eyelashes and Eyebrows
One method of restoring elastin lost during aging is to provide human elastin to the skin in a formulation from an external source. NULASTIN® LASH & BROW Follicle Fortifying and Shape Altering Serum with Keracyte® Elastin Complex provides a clinically proven source of human tropoelastin. The company's patented Elastatropin® (tropoelastin) may be the solution to reduce ongoing hair loss and stimulate new hair growth. NULASTIN's DNA proteins, bioavailable peptides and their exclusive lipid ensures that the root of hair loss is addressed, while energizing all four phases of the 3-4 month growth cycle, making the NULASTIN® LASH & BROW serum a game-changer within the industry.