Black Friday & Cyber Monday Deals End at Midnight 11/28/22

Save now on the perfect gift for the beauty lovers on your list.
(Remember yourself, too!)
Now is the perfect time to stock up on our amazing LASH Follicle Fortifying Serum and BROW Shape Altering Serum with Elastaplex®. For a limited time, we're offering 2-packs for $119. And for first-time subscribers, we have an even sweeter deal: when you subscribe, you'll get your first month for $101.* The longer you use it, the better your results get – that's why this 2-pack deal is so special.
*First-time subscribers get 2-packs for $101 their first month. After the first month, it will be $119.
Get lush lashes & brows in 6 weeks or less.
Believe in these unbelievably gorgeous results. In a 12-week clinical evaluation of these best-selling serums, customers noticed up to 60% longer-looking lashes and 120% fuller-looking brows. Thousands of real customers experience visibly thicker, shinier and healthier-looking lashes and brows in a matter of weeks.
Our (not so) secret sauce is elastin: the beauty protein.
Elastin gives skin that tight, bouncy, youthful look – allowing the skin to spring back into shape. It is integral for healthy hair follicles. As we age, our bodies produce less new elastin and we start to see changes like degraded skin and hair thinning. Introducing a new source of elastin can delay aging, nurture the skin and promote fuller, healthier-looking hair, lashes, and brows. This elastin replenishment is what sets NULASTIN apart from other hair and skincare products.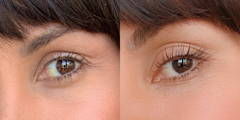 INCREASE IN THE APPEARANCE OF LASH LENGTH
"My lashes are the longest and strongest they have ever been."
– Candace A.
*Individual results may vary.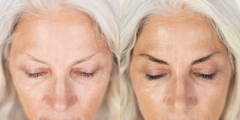 INCREASE IN THE APPEARANCE OF BROW THICKNESS
"Astonishing! My brows are thicker and longer than EVER."
– Linda J.
*Individual results may vary.
Exclusive Access Expiring In
100% Performance Guarantee
If our products do not meet your expectations, you can return or exchange
them for a full refund
at any time.