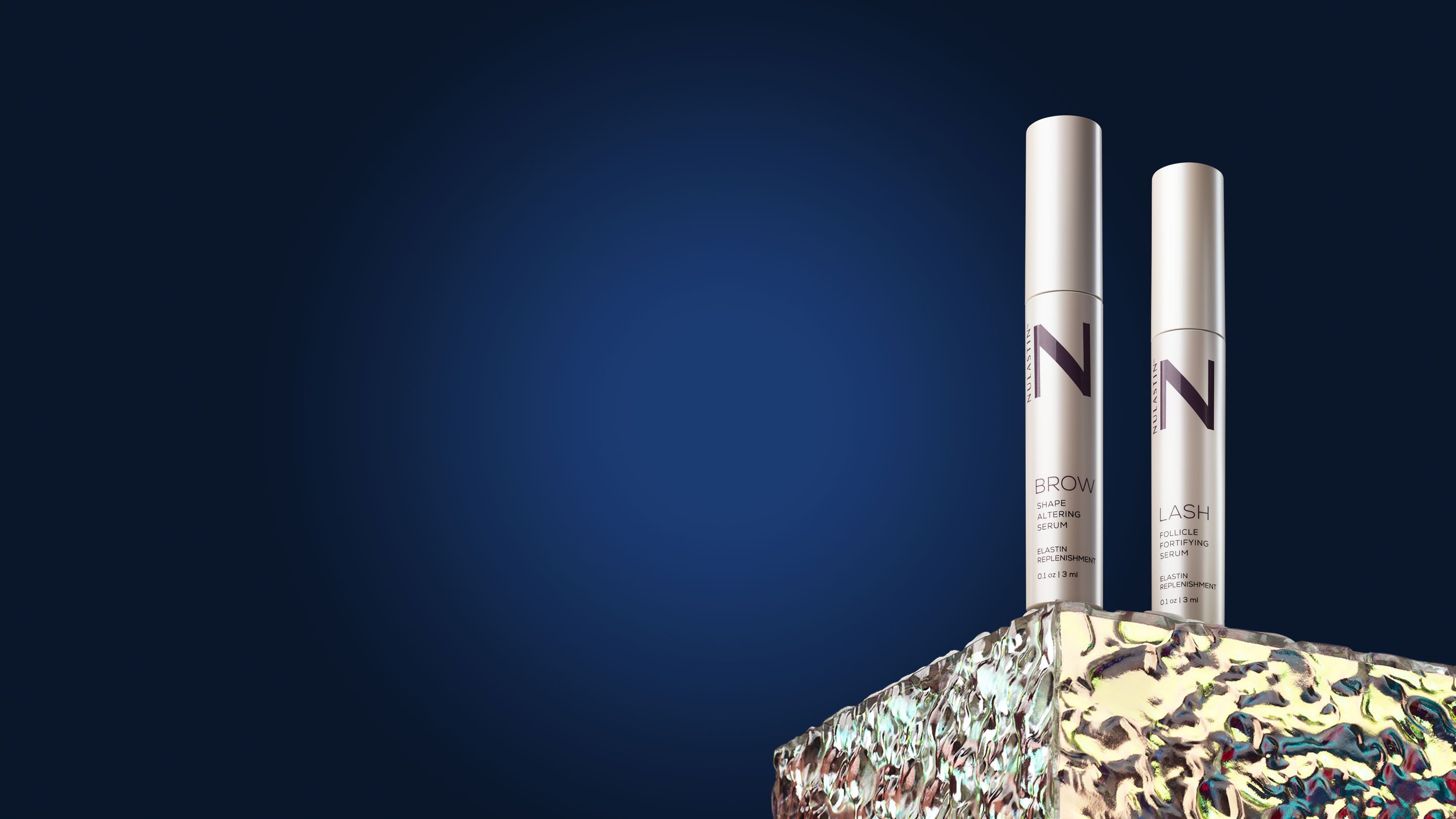 Revive lashes & brows with the power of elastin replenishment
Real people love NULASTIN
LASH and BROW Dual System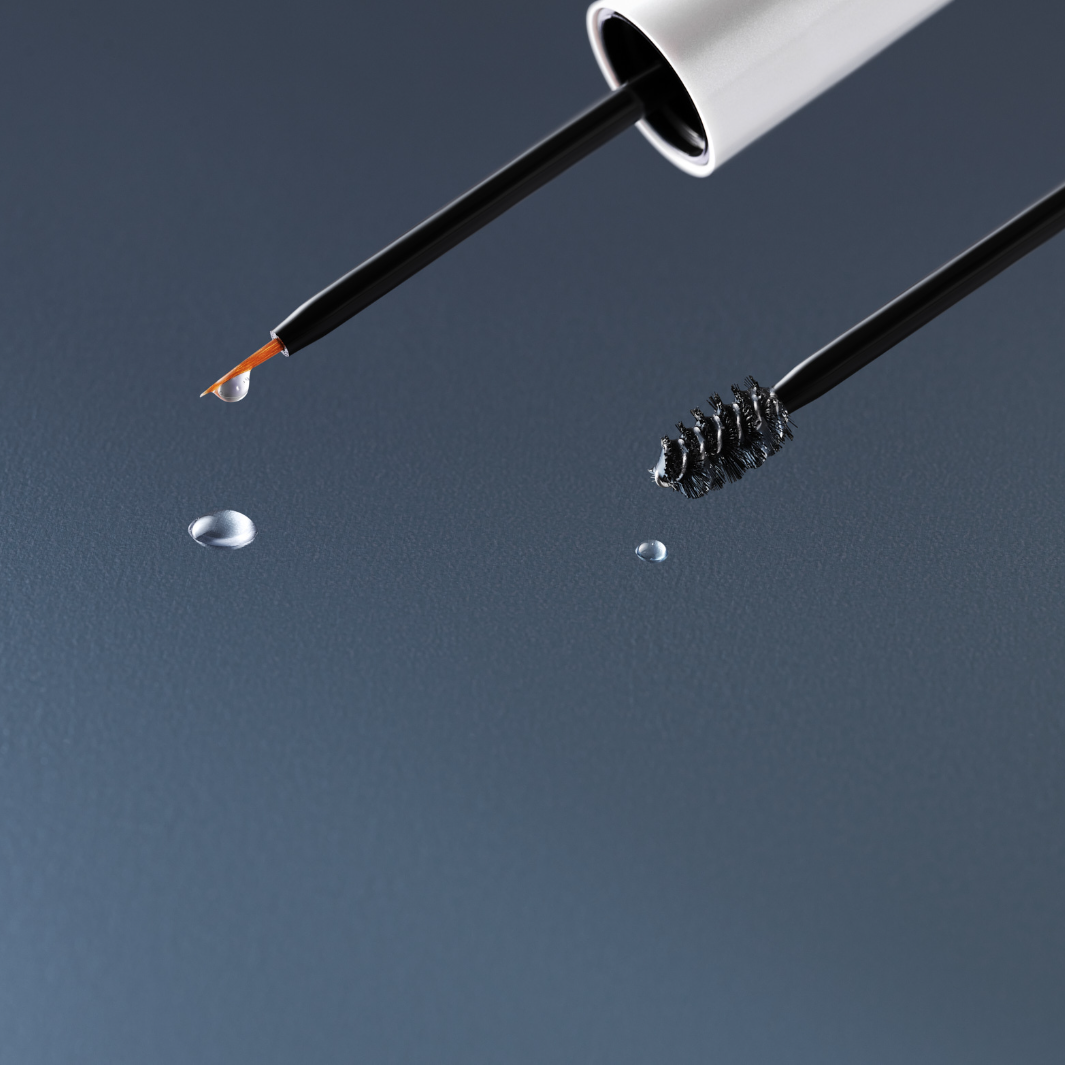 Custom content
Use this advanced section to build your own layouts or to add custom HTML, Liquid, or scripts.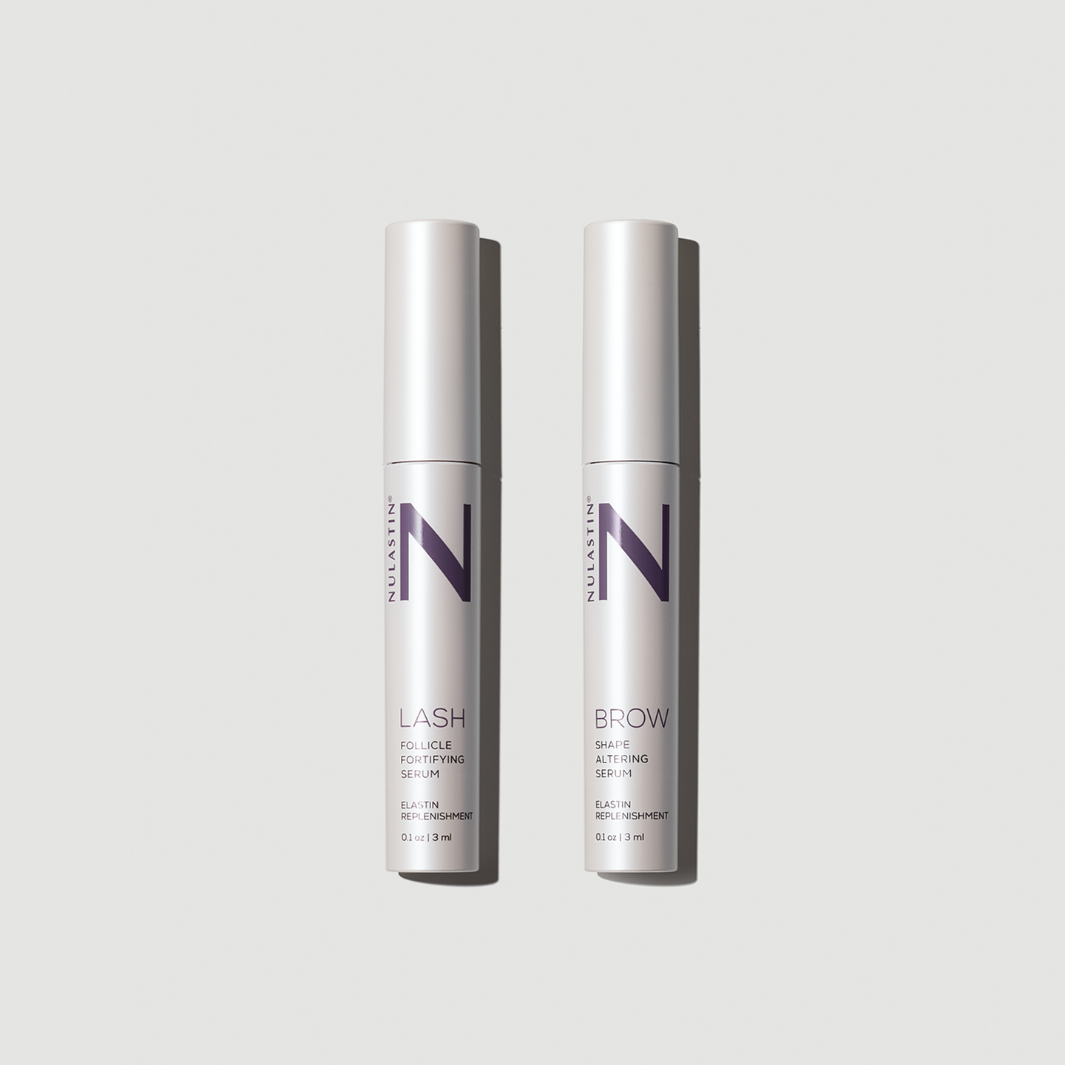 It's a best seller for a reason.
★★★★★

Add customer reviews and testimonials to showcase your store's happy customers.

Author's name

Los Angeles, CA
★★★★★

Add customer reviews and testimonials to showcase your store's happy customers.

Author's name

Los Angeles, CA
★★★★★

Add customer reviews and testimonials to showcase your store's happy customers.

Author's name

Los Angeles, CA
★★★★★

Add customer reviews and testimonials to showcase your store's happy customers.

Author's name

Los Angeles, CA
★★★★★

Add customer reviews and testimonials to showcase your store's happy customers.

Author's name

Los Angeles, CA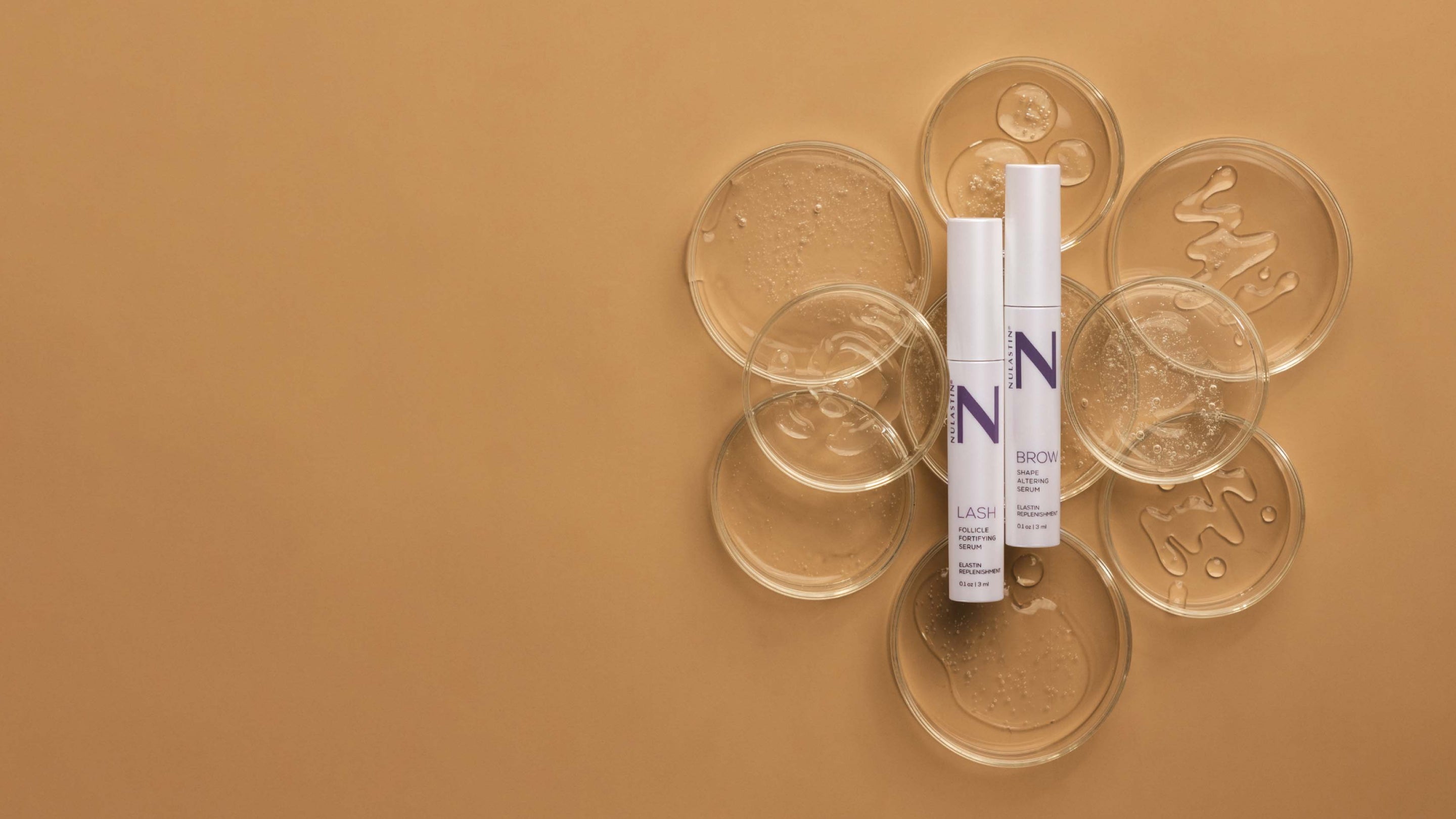 We only use the best ingredients.
We've found a unique way to utilize elastin protein at NULASTIN.The world's first ethically-sourced elastin renewal protein that's designed to rejuvenate hair follicles, leading to longer, fuller, healthier looking lashes, brows and hair.  
Each LASH and BROW tube contains 3mL of concentrated serum. This is comparable with the industry-standard size.
NULASTIN is the only product used in the cosmetics industry that contains Elastaplex Technology featuring a cruelty-free elastin protein that supports the body's ability to anchor the hair follicle "bulb" to the elastin root system, delivering longer, stronger looking hair. Our formula has synergistic, active ingredients that target all phases of the hair growth cycle. The LASH, BROW and HAIR serum/treatments use a genetic code suitable for all skin types (100% inclusive).

No other formula has our blend of Hepatocyte Growth Factor (HGF) with vegan elastin and keratin proteins that are naturally derived and identical to the corresponding human DNA proteins. Keratins can range in quality and can differ from where they are sourced. Some keratins are made from plants and some from animal by-products. Common animal by-products used by the cosmetic industry are bovine blood plasma, tendons, and ligaments from harvested animals. Our unique, cruelty-free proteins are one of the biggest breakthroughs you'll find in our formula compared to other brands.

NULASTIN is made in Boulder, Colorado, U.S.A. We are committed to small-batch, bioavailable serums that deliver real results. Unlike big cosmetic companies with products that may sit on shelves for months, our formula is always fresh, potent, and highly effective. We have never before, and never will, test on animals.

Our products are cruelty-free, paraben-free, gluten-free, vegan friendly, clinically evaluated, and proven safe. We are free of top common allergy-causing preservatives including lanolin, topical antibiotics, and MCI/MI.

We are committed to scientifically proven, performance based, ethically derived elastin replenishment products that accentuate natural beauty, health, and vitality. With every purchase comes a 100% performance guarantee.
Most of our customers receive their first unsolicited compliments within a few weeks of using NULASTIN. It should be noted that results may differ from person to person and not everyone will have the same response to the product. The speed with which you notice results is dependent on several factors such as the consistency of product application, age, gender, genetic predisposition, environmental conditions and other factors.

 With the LASH Follicle Fortifying Serum, you may start noticing some changes within a few weeks of using it. Your lashes may feel more luxurious, and they may hold mascara better. After six weeks of consistent use, you may observe even more significant changes, such as an increase in length, width, and density of your lashes. According to a clinical study completed in July 2023, the results of using the serum doubled between week 6 and week 12.
The BROW Shape Altering Serum and HAIR Vibrant Scalp Treatment may take more time, but clinical studies show a 60% improvement in brow thickness/size and a 50% improvement in hair thickness by week 12!  To achieve the best results, it is recommended to apply the product in areas where there is less hair, twice a day (morning and night). However, some areas may take longer, up to six months or more, to improve. Unfortunately, if the hair follicle is damaged beyond repair, new growth may not be possible.
With all of our products, timing is different for everyone. Your lashes, brows, and hair grow in stages. For lashes and brows, the cycle lasts 3-4 months. Scalp hair can take longer. 
— The 1st stage (anagen)
When your hair grows a little every day (30-45 days).
— The 2nd stage (catagen)
The transition or regression phase — when your hair follicles shrink, allowing the strands (bulb) to extend toward the surface (2-3 weeks). 
— The 3rd stage (telogen)
The resting phase. Your hair bulb is inactive, and the hairs eventually fall out (Around 100 days). 
— The 4th stage (late telogen or exogen)
Reassembly. This is where new follicles are formed. Think of it as the reawakening process before the hair starts back into the growth phase.
All skin types and ethnicities can use NULASTIN and thousands of customers notice real results — regardless of age, gender, or health.
We do not recommend NULASTIN to anyone under the age of 18 or women who are pregnant and nursing, as these demographics have not been adequately studied. 
If you have a medical condition, please consult your physician before using NULASTIN.
Using NULASTIN consistently provides a continuous opportunity to improve your lashes, brows, hair and skin. Think of it as part of your go-to skin care and beauty routine as well as a healthy lifestyle choice. 
The good news is that you can decrease usage after you've achieved your desired look. If you discontinue use altogether, your lashes, brows, hair, and skin will gradually revert back to their original appearance. 
For LASH, BROW and HAIR
You can apply the serum twice daily (morning and night) until you reach a point of satisfaction. Another option is to decrease application to once per day three or four times per week. When you want to increase the results again, go back to using twice per day. 
For SKIN 
Consistently using NULASTIN twice a day, morning and night, allows your body to continuously rejuvenate that youthful-looking glow, firmness, and elasticity with ease. It's an effective and convenient treatment for reducing the look of fine lines, wrinkles, dark spots and other signs of aging skin.
As we age, our body's ability to produce structural proteins like elastin decreases. In fact, by the time we reach early adulthood, the amount of elastin in our body is intended to last a lifetime. However, several factors including stress, sun exposure, tobacco use, weight changes, harsh environmental conditions, and aging can accelerate the loss of elastin. This can lead to several skin issues like wrinkles, sagging and loss of elasticity.
As hormonal changes take place around the age of 35, the body faces elastin loss which leads to various negative effects like increased scarring, sagging, uneven skin tone, dryness, dullness, sparse lashes and brows, thinning hair, and an inability to regenerate certain tissues and organs.
By supporting the body's natural ability to stimulate the replenishment of elastin, we can delay the look of aging and hair loss to help customers look and feel their best at any age.
We are committed to fresh, small-batch production and the shelf life of our cosmetics is 2 years. We encourage our customers to use NULASTIN once received, ideally within the 24M Period After Opening (PAO) recommendation, to maximize results. Stockpiling is not recommended. 
Keep unused products in your refrigerator or store in a cool dry place out of direct sunlight. Do not freeze the serums.