Every year, on the last Wednesday of September, we celebrate Women's Health and Fitness Day. On this day (and hopefully every day!), we highlight the importance of exercise and overall awareness of women's health. And we here at NULASTIN® are all about any opportunity to celebrate women and those that support other women to lead healthy and active lives. We're taking this opportunity to not only remind each other to reach out to women to go for a walk, hike, or workout together but we'd also like to shine a light on one woman who shares traits that we love at NULASTIN; empowered, confident, and authentic.
Kay Tuttle lives life with vitality and gives back to her community through coaching kids. We here at NULASTIN admire her not only for how much she gives to the community through her coaching but also for her life as an artist and her kindness towards others. We sat down with Kay to talk because we can't get enough of women who not only embody the true spirit of confidence but who also find time for others.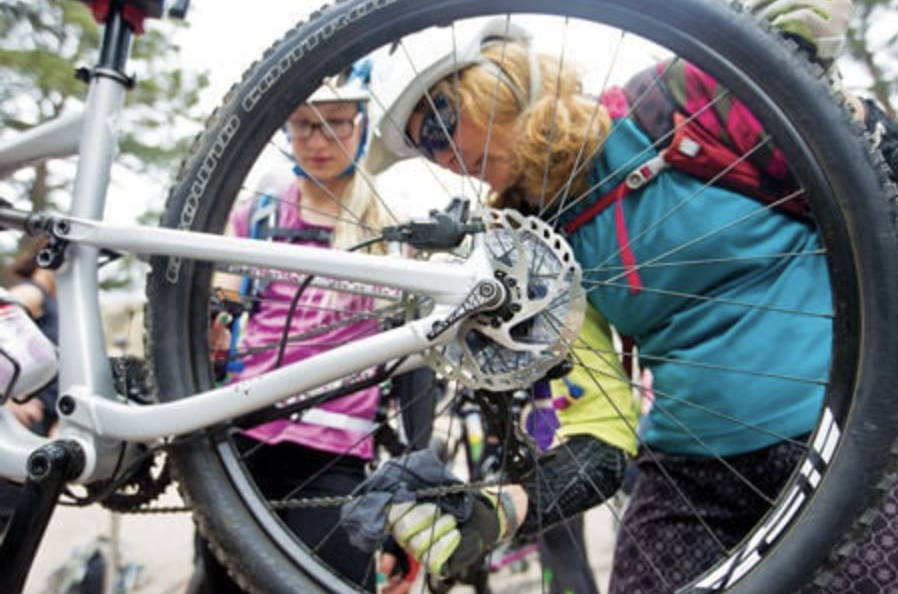 Q: Where were you born? What do you love about living in Colorado and what do you do in your spare time?
"I was born in Colorado but I've also lived in Germany and France. I love Colorado weather. I love golden summer days, the smell of fall, and how everything looks fresh and magical when covered in snow. Spring is my least favorite season as I've had the coldest bike rides of my life in spring. It can be sunny, but it's cold and then it snows! I spend my spare time riding bikes with my husband, walking my dog, working on my wildflower garden, and drawing."
Q: Tell us about coaching kids on bikes.
"I've been a coach for about eight years. I like coaching because I get to be outside with kids. I enjoy watching them grow as riders. Kids are fun and insightful. It's rewarding to watch a child grow from being afraid to being confident! We teach them to break big problems into bite-sized pieces. Kids become more confident which spills over into the rest of their lives like school and friendships.
Q: What do you do to reset or refresh?
"I reset by doing all the things I love, like being outdoors and moving around–being in nature. That's what I need to reset. A nice snorkeling vacation helps with that too."
Q: You recently had a severe bike crash? How is your recovery going?
"I definitely get down as I am limited in my movements and have pain. I just try to remember that this is temporary. It won't last forever and it's teaching me empathy."
Kay broke several ribs as well as multiple vertebrae in her neck and back and despite many months of recovery to come and the worst pain of her life, she considers herself very lucky.
As we were interviewing Kay, we asked her what she's been reading and what was for dinner. "Peach and tomato salad with goat cheese. It's so delicious and needs to be eaten right now while I have Colorado peaches and tomatoes from the garden. As for what I'm reading, Making Comics by Lynda Barry. I've been doing some of her drawing exercises. She is funny and warm-hearted." Just like Kay.
At NULASTIN, we love shining a light on women who not only know how to care for themselves but who also give back to the community. Nourishing ourselves whether it's being outside or taking a bath while our faces soak in an Intensive Hydration Serum, is important. So many things are always pulling at our attention. Be sure to make time to take care of yourself, to nurture your inner glow so that you have enough vitality to spread to those around you. We are here for you when you need that extra help to bring out your natural beauty. We're with you on this journey to live a life well lived. Happy Women's Health and Fitness Day! Take care of you. You deserve it.
Cheri Felix is a storyteller. Her communication is meant to make people feel, make people think, and make people laugh. She is here to write about everything from skin, food, hair, travel, books, how she regrets not wearing sunscreen in the 80's and 90's….and sharing what she knows and loves about NULASTIN®. Her straightforward, compassionate, and witty style of writing is a perfect voice for the NULASTIN® brand. In her spare time when she's not obsessing about her personal care journey, cooking for her family, and hiding from the laundry basket, she likes to run long distances, ride her bike up short hills, and try to catch (and release!) fish. Cheri graduated from the Arabic Language Institute, American University in Cairo, Egypt in Classical and Spoken Arabic Language and holds a B.A. in American Studies from University of Colorado at Boulder.