There's a reason you don't put a winter coat on before a cami and you don't layer a t-shirt over a cardigan. Skin care layering works almost the exact same way. To get the most out of your products, there's a method. Let's take a moment and break down what to put on when and the why behind it all.
Why does the order of application matter?
There are actually two main reasons. First, it helps avoid any unwanted irritation, excessive redness and dryness. Most importantly though, applying your products in the correct order maximizes their effectiveness and helps you get the most "bang for your buck". You want your skin to soak up the goodness of each product because that's the secret to seeing better results, faster. Being thoughtful about layering helps products work better, absorb more fully and combine ingredients safely to help target different issues at once.
A good guideline when layering skin care is to apply by texture, starting with the thinnest, watery formulas and moving towards thicker, creamier products. This ensures your liquid products stay closer to the skin so they don't have to work through richer creams. After consistency, the second consideration is ingredients. You want to give the most important ingredients easy access to your skin while humectants and emollients should sit on top to seal in moisture. If you have time, it's also a good idea to wait about a minute between layers to allow each one to absorb.
Our best advice for routine building
We encourage customers to keep their routine simple. And actually, most of our customers have trimmed their arsenals back to high-quality basics like our elastin replenishment collection. Not to brag, but we have been believers in "Skinimalism" since long before the term became popular. So we'll delve into the full order of operations, but that doesn't mean you need every product on this list. You know your skin better than anyone, so choose products that meet your unique needs and gently care for your skin type.
To keep our routines small but mighty (and to save time), we prefer powerful formulas that serve double-duty. For example, our Gentle Exfoliating SKIN Cleanser soothes, brightens and exfoliates in a single step while our Rejuvenating SKIN Facial Moisturizer is so rich and nourishing that it's also perfect for the delicate under eye, neck and decollete areas.
Order of operations: Morning edition
You may use the same or similar products morning and night, but the goals are slightly different. In the morning, your routine should focus on protecting the skin from environmental damage.
Step 1: Cleanser & Exfoliant
Some swear by a simple splash of water in the morning, but we believe in starting with a clean canvas. An invigorating morning cleanse removes any product residue from your nighttime routine and washes away any excess oil from your hair and pillowcase. Bonus points for exfoliating in a single step.
Step 2: Toner and/or Essence
This is an optional step, but the main purpose of toners is to remove any last traces of dirt and oil missed during cleansing, so those with normal to dry skin may want to skip toner entirely. On the other hand, an essence is more like a "booster" treating the skin before layering on your essential products. Try a firming or hydrating formula for extra plumpness before your serum goes on.
Sheet masks toe the line between essence and serums and work best right after cleansing. They're great for hydration after a long day in the brisk air and the perfect treat for the skin – and there's no need to rinse. If you're using a cream, gel or clay formula, a general rule is no more than twice per week. Masks feel luxurious on mornings when you have a little extra time for yourself. Even the removal feels heavenly if you use a warm, damp towel. Plus, they're a great way to boost moisture, control oil and soothe the skin for a dewy glow.
To get the most from your serum, it needs to be kept close to the skin. Our SKIN Intensive Hydrating Serum with Elastaplex® combines the moisture-attracting power of hyaluronic acid with protective antioxidant ingredients and elastin replenishment to support plump, rejuvenated skin, even in dry climates. This effectively combats dullness and diminishes fine lines, wrinkles and dark spots.
While your skin is still damp from serum application, apply your moisturizer. This is the most important step in your whole routine. Rejuvenating SKIN Facial Moisturizer with Elastaplex® is a luxe formula perfect for anytime of day. The professional strength formula works to reduce the look of fine lines, wrinkles and dark spots while protecting against oxidation and damage caused by free-radicals. It's also gentle enough for the delicate skin on the neck and decollete.
With a hardworking yet skin-loving moisturizer, this step is completely optional, but some people love that little bit of extra hydration that eye creams offer. Many formulas also come with brightening and light-reflecting ingredients for sleepy mornings. You can layer them over your moisturizer or go for a single layer and apply directly to the eye area.
When using an SPF, it should be the very last step in your morning routine because it's difficult for other products to penetrate through it. You want to give yourself a little time between finishing your skin care and adding sunscreen. Waiting 15-20 minutes will help avoid that heavy, greasy feeling and prevent dreaded pilling. Choose a lightweight formula with zinc for optimal sun protection. We also fully support hats and statement sunglasses.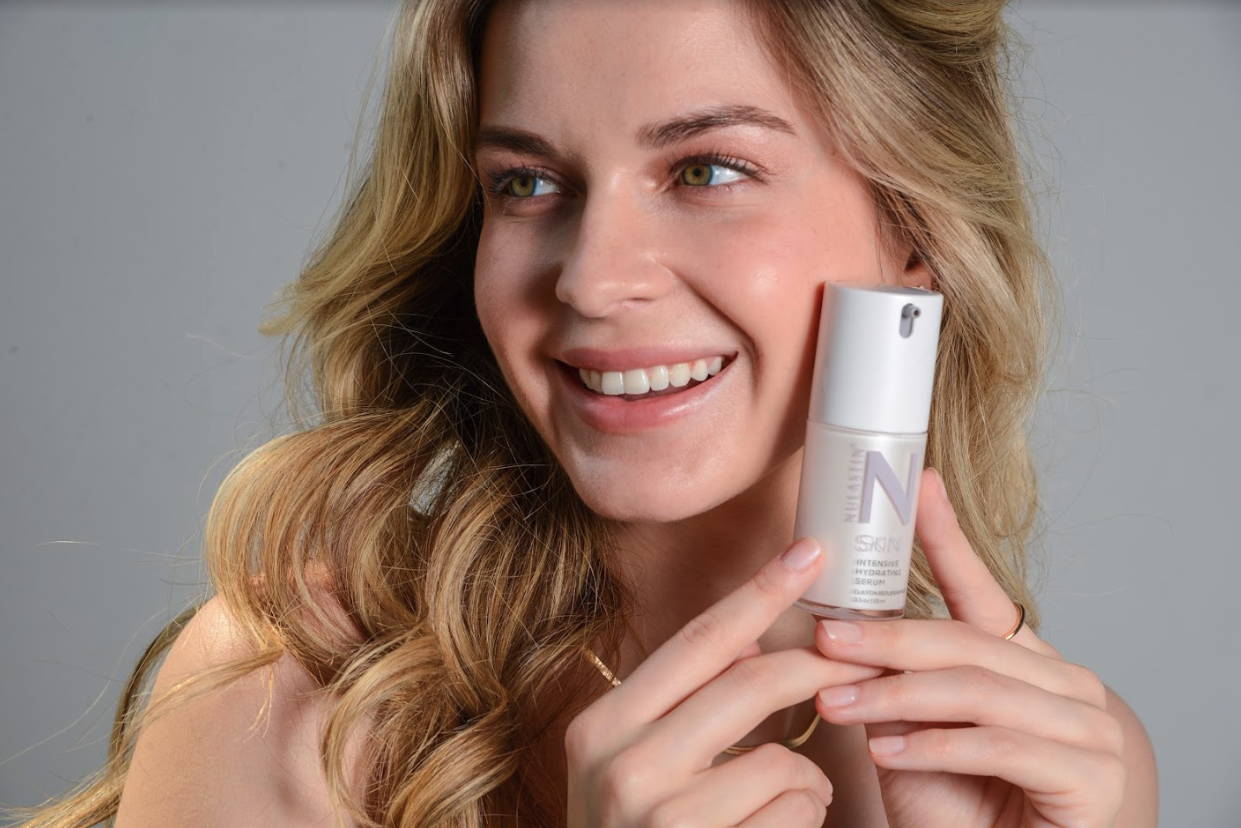 Order of operations: Evening edition
If your morning routine is all about protection and hydration, then your evening routine is focused on treatment and recovery. Your body repairs itself during sleep, so it's the perfect time for targeted skin care.
Step 2: Toner and/or Essence (Optional)
Step 3: Serums and/or Targeted Treatments
Our SKIN Intensive Hydrating Serum works to visibly reverse and repair damage due to lost elastin overnight. You'll probably notice a boost in radiance and tone as soon as the next morning. Plus, it's gentle and perfect for all skin types. This is also when you'd apply any actives like retinol or vitamin C.
Step 4: Moisturizer and/or Night Cream
As we sleep, our skin tends to lose moisture throughout the night. That's why this step is so critical. We recommend reprising your Rejuvenating SKIN Facial Moisturizer in the evening immediately after applying your serum to soothe tired and thirsty skin. For extra dryness, you can top with a heavy night cream.
Step 5: Eye Cream (Optional)
As always, we recommend keeping your routine simple and tailored to your needs. Whether you're a less-is-more minimalist or a proud skincare junkie, this guide will help you maximize your routine and see the biggest difference in your skin.
100% Performance Guarantee
If our products do not meet your expectations, you can return or exchange
them for a full refund
at any time.
Our entire collection supports the body's natural ability to stimulate the replenishment of elastin while defending against matrix protein damage caused by aging, stress, sun exposure, weight changes and other factors. You can try NULASTIN risk-free because every one of our products is backed by a 100% Performance Guarantee. If our product(s) do not perform to your expectations, you can exchange or return them at any time [Terms and Conditions Apply].